Braun MultiQuick Hand Blenders and Attachments
Ultimate Power.
Ultimate Versatilty.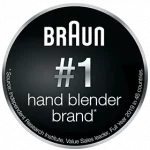 Choose your hand blender motor unit and a variety of innovative attachments.
The #1 hand blender brand.* Designed for what matters.
Our 4 keys to success: Versatility, Design, Quality and Innovation. You will be amazed at how quick and easy it is to cook even the most complex meal from scratch with our MultiQuick System – there are no limits. The Braun MultiQuick System offers a wide range of motor units with various power capacities, control options and possible attachments. What MultiQuick System type are you?
*Source: Independent Research Institute, Value Sales Leader, Full Year 2019 in 46 countries
Do it all with the world's largest attachment system.
One hand blender motor unit and an amazing range of innovative attachments, for unlimited versatility. It combines numerous kitchen appliances into one innovative solution.
Chooper

Food Processor

Dicer

Blending Shaft

Whisk

Purée
Chopper, 3 cups (500ml) and 1.5 cups (350ml)
Makes your big jobs easier than ever – chops & minces anything in just seconds. Whether it's onions to avoid tearing eyes or herbs, meats, hard cheeses, nuts and more, you are just seconds away from ready-to-use.
The ultimate all-in-one attachment that can do it all.
It chops, slices, shreds, kneads and cuts into julienne and French fry shapes. Now featuring an even bigger XL Food processor with a 13.5 cups (3.2 L) bowl, with a new kneading hook for better performing results. Moreover, thanks to our splash guard, all food contact parts are dish washer safe with less effort to clean.
Add color and flavor to all your dishes.
Enjoy a fast and colorful food preparation with the clever new dicer attachment. It lets you dice your favorite fresh fruits and vegetables into perfect little 9 mm squares in just seconds.
The quick tool for great, creamy results.
The Braun MultiQuick 9 Blending Shaft with the unique ActiveBlade technology is able to smooth the hardest foods without any effort. Cooking becomes even more of a fun experience when you can easily chop any hard-to-cut ingredient, blend the perfect smoothie for your breakfast or create the creamiest soup for dinner, all in just seconds.
Whipping, beating or stirring.
You've never seen faster results for whipping cream, beating eggs, mixing cakes or stirring Hollandaise sauce, as well as making instant and homemade desserts.
The masher is the ideal kitchen aid for a convenient and fast preparation of perfect mashed potatoes – even mashing and puréeing cooked vegetables into a creamy, smooth consistency is just so simple.
World's first ActiveBlade technology.
The unique ActiveBlades move up and down to easily blend the hardest foods with 40% less effort*. Evolved to tackle the toughest jobs, this innovative new flexible shaft results in 250% more active cutting surface to work with, which results in 2 times finer blending! That means you can get more creative.
*Source: Independent Research Institute, Value Sales Leader, Full Year 2019 in 46 countries
More innovative features.
SplashControl technology.
Enjoy perfect results with no mess. Every Braun hand blender is equipped with the unique PowerBell blending shaft – designed with SplashControl Technology to keep you and your kitchen spotless.
PowerBell Plus Technology.
Extra blade means extra power. This innovative additional blade delivers more cutting per rotation. Process large pieces of food with more comfort and less effort than ever before.
All speeds can be selected intuitively by simply squeezing one button. If you aim for coarse and roughly chopped results, push gently. For fine results, increase the push of the button for more power.
Tested against the highest quality standards.
Each of the hand blender devices feature powerful, high-quality motors developed to ensure a super compact ergonomic design for single handed use, without excessive vibrations or noise – over 60 million hand blenders produced by Braun factory in the past 18 years alone.
To guarantee the high quality standards, every product is thoroughly tested: from the development phase to the end of series production, supported by over 50 years of Braun experience.
"Don't persuade. Convince." This Braun motto goes back to the 1950s. And Braun's innovative, independent design has been delivering compelling arguments ever since. Our design principles and core values of functionality, clarity, longevity and timelessness can be seen in the hundreds of products Braun has already brought to market – and naturally the products we continue to create for our valued customers every day.